Getting Started with CloudConnect
CloudConnect transforms PingPlotter into your networking command center. The service delivers network diagnostic information from remote machines to a central hub where you can monitor and troubleshoot as if the traces were happening on your computer.
How it Works
Agents, a cloud service, and PingPlotter form CloudConnect. Together they create a system for monitoring network activity on remote machines and diagnosing issues as they arise.
Agents
Agents are deployed to customer machines. They're a full-featured copy of PingPlotter you can control from your computer.
Cloud
A cloud service manages delivery between agents and PingPlotter. It ensures all information reaches its destination.
PingPlotter
PingPlotter is the same product you've always known. Only now it connects to the cloud service and receives data from agents.
Download
To download PingPlotter with CloudConnect, you'll need to visit our beta page and download the latest beta version. CloudConnect is currently only available to Standard and Professional users with active maintenance. If you're unsure of your status, or would like to activate maintenance for your account, visit your account page.
Once installation and login is complete, CloudConnect can be activated by going to Edit > Options > CloudConnect. Within the CloudConnect settings, there will be a section for Controller with an option to Enable CloudConnect. Clicking on this button will cause PingPlotter to talk to the cloud and do the setup work in the background. Once complete, you'll see the Config information and an option to Test Connection if you'd like to ensure the setup was successful.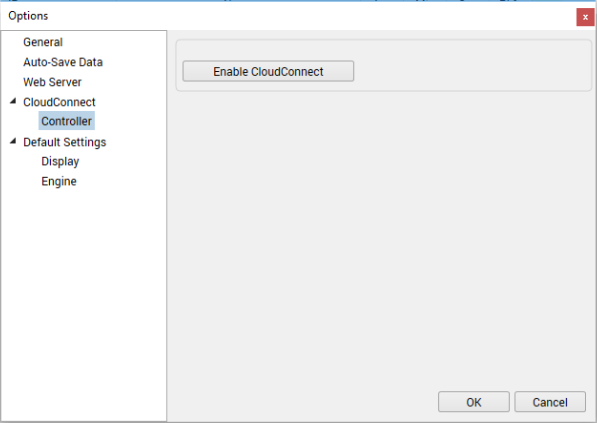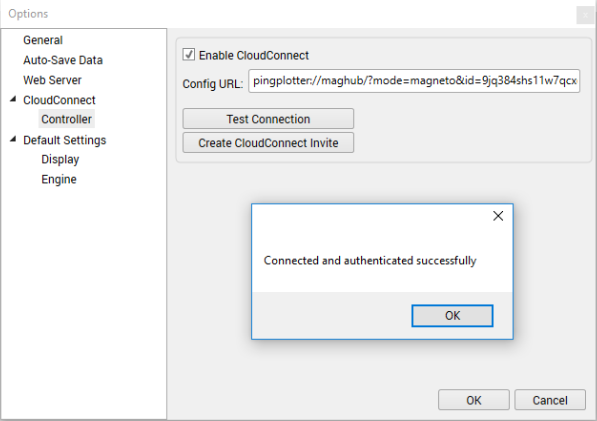 Activating Agents
To deploy an agent, select Add a new Agent... from the Agent dropdown menu (next to the Focus control).
Selecting this option opens the New Agent prompt, where you can name the agent and send the activation link. Be sure to enter an easily identifiable name, as this is the name you'll see when you manage the agent.

Clicking Email with an email address in the Email to: field opens your email client and creates a message containing the agent's activation link. The Copy Link option is also available in case you're interested in sharing through something other than email. 
Once the activation link is shared to the remote computer, clicking it automatically configures PingPlotter to operate as an agent. After the process finishes, you can control the agent from PingPlotter. Please keep in mind activation links are designed for use on one machine. They can not be used again after activating a computer. 
Activating Multiple Agents with the Same Link
Master Links are available in case you prefer activating multiple agents with the same link. They let anyone with the link activate an agent on their computer. To set up a Master Link, click Edit > Options CloudConnect then click the Create CloudConnect Invite button.   
Clicking the button opens a prompt similar to the New Agent prompt from earlier. The Master Link never changes. It can be saved and distributed as needed.    
Master Links ask remote machine users to name their agent. If you have a name preference, you'll want to instruct the user ahead of time. 
Entering a name finishes the activation process. After this step is complete, the new agent should be ready for use in the Agent dropdown menu.
Managing Agents
Working with agents is the same as working with regular PingPlotter traces. The only difference is the Agent column. It shows Local if a trace is happening on your computer, or the agent name if the trace is taking place on a remote computer. More information about managing PingPlotter traces is available in the Getting Started Guide and Product Manual. 
Deactivating Agents
To remove an agent from the Agent dropdown menu, click the X that appears to the right of the name. 
Adding Targets
PingPlotter's "Local Network Discovery" feature makes it easy to view and add devices that are located on your agent's network. This feature can be accessed by navigating to Tools > Local Network Discovery. In the LND Window, you'll notice a Machine area in the top right which allows you to select which agent's network devices you'd like to scan for. Click Start Scan to begin. 
Shortly after starting the scan, any discoverable targets will be listed in the table below. To begin tracing to a single target, you can select it and click Open Target which will begin tracing to the target from the selected agent and will open in a new trace window. You can also add this target, or multiple targets, to a summary screen by clicking Add Selected to Summary.
This will begin tracing to the target from the selected agent and will create a new Summary window with the agent's name if one is not already available. There is also the option to Add All to Summary which does the same thing, but with all targets. This will allow the user to easily manage targets by their respective agent and will help keep the targets organized within their summaries. 
We'd love your feedback
Hearing how the beta works for you helps us build a better PingPlotter. Please check for known issues in the release notes, share whatever feedback comes to mind during your testing.
Email the Beta Team
Interested in testing?
Our beta page has everything you'll need to try CloudConnect for yourself. It also has all the latest infformation on PingPlotter's newest features.
Check it Out!