PingPlotter Getting Started Guide
PingPlotter Sidekick Getting Started Guide
"I just purchased PingPlotter Sidekick, what do I do now?"
You should have received two emails after purchasing: a receipt from Pingman Tools Checkout (via FastSpring, our payment provider) and another from Pingman Tools with instructions on accessing Sidekick.
In the Accessing Sidekick section of the instructional email is a web link that will get you access to your Sidekick Agent. Don't lose this link! This is how you will access your data going forward!...but if you do end up losing it, you can recover it by emailing us at support@pingman.com. We'll handle it from there.
After clicking on the link, you'll be taken to a page (be sure to bookmark it!) that looks like the one below. 
Download and Install the Sidekick Agent
Click on the Download Agent button to download the Sidekick Agent installer. An agent is available for Windows and Mac operating systems. You can download the installer for a different OS by clicking on the dropdown arrow. There is also an option to Copy the Link to this page so that you can easily access it on a machine to which you are remotely connected.
After downloading the agent, you'll need to install it.
Windows Installation
Run the installer by double-clicking on the pingplotter_agent.exe file from your Downloads folder, accessible via Windows Explorer.
The Installation Wizard will open. Click Next --> Next --> Install.
A small window will pop up (User Account Control) that says, "Do you want to allow this app to make changes to your device?" Select Yes.
Select Finish.
MacOS Installation
The MacOS agent is downloaded as an application in a .zip file. You'll simply unzip the file, and then run the application.
Double click on the pingplotter_agent-MacOS.zip file from your Download folder, accessible via Finder.
A new file will appear in your downloads folder - the PingPlotter application. Double-click to open the application.
A pop-up will show asking if your sure you want to open it. Select Open.
PingPlotter will open another pop-up asking, "Move to Applications folder?" Select Move to Applications Folder.
If you are prompted to, enter your password (the one you use to log in to your Mac) and then hit Enter.
PingPlotter will open and confirm that the Sidekick Cloud agent has been installed.
You'll know you successfully installed the agent when your Sidekick page refreshes to show something similar to this:
Analyze Sidekick Data with PingPlotter Insights
The Sidekick Agent will continue to collect data in the background as long as your computer remains powered on. Be sure to turn off sleep mode for best results! You'll need to collect at least 10 minutes of data to run PingPlotter Insights, but the more you collect, the more accurate diagnosis you'll receive. 
The best thing you can do now is to try and reproduce whatever problem you were experiencing. Whether that be lag while gaming or buffering while streaming. Try to make it happen again so that Sidekick can capture the network performance while the problem is happening.
To run Insights, click on the "Troubleshoot with Insights" button. You'll be taken to a new page that looks like this: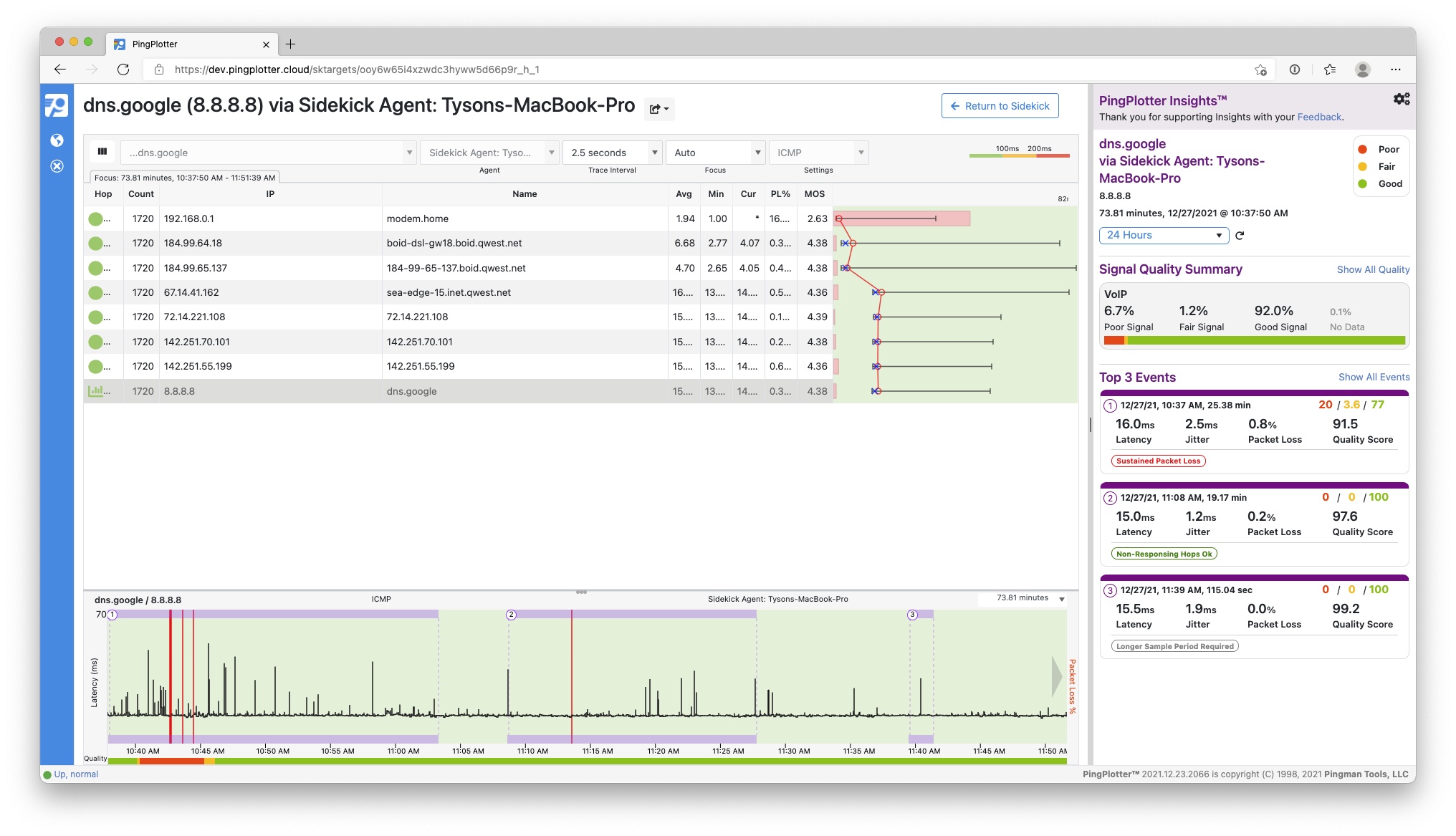 Insights will display the results of its analysis on the right-sidebar. To learn more about Insights, visit this page.
Export Your Sidekick Data
You've collected a bunch of data and you found out that the problem isn't something you can fix without help from somebody else. That somebody else could be your Internet Service Provider, a network admin, or some other support team. It would be really nice if they could see the same data that you're looking at. 
Sidekick makes it easy to share your data. Simply scroll to the bottom of the main Sidekick page and select Export Data. You'll be taken to a new page with an auto-generated message curated with links to your data. Copy the message using the "Copy to Clipboard" button, paste it into an email, and send it off to whomever can fix your problem.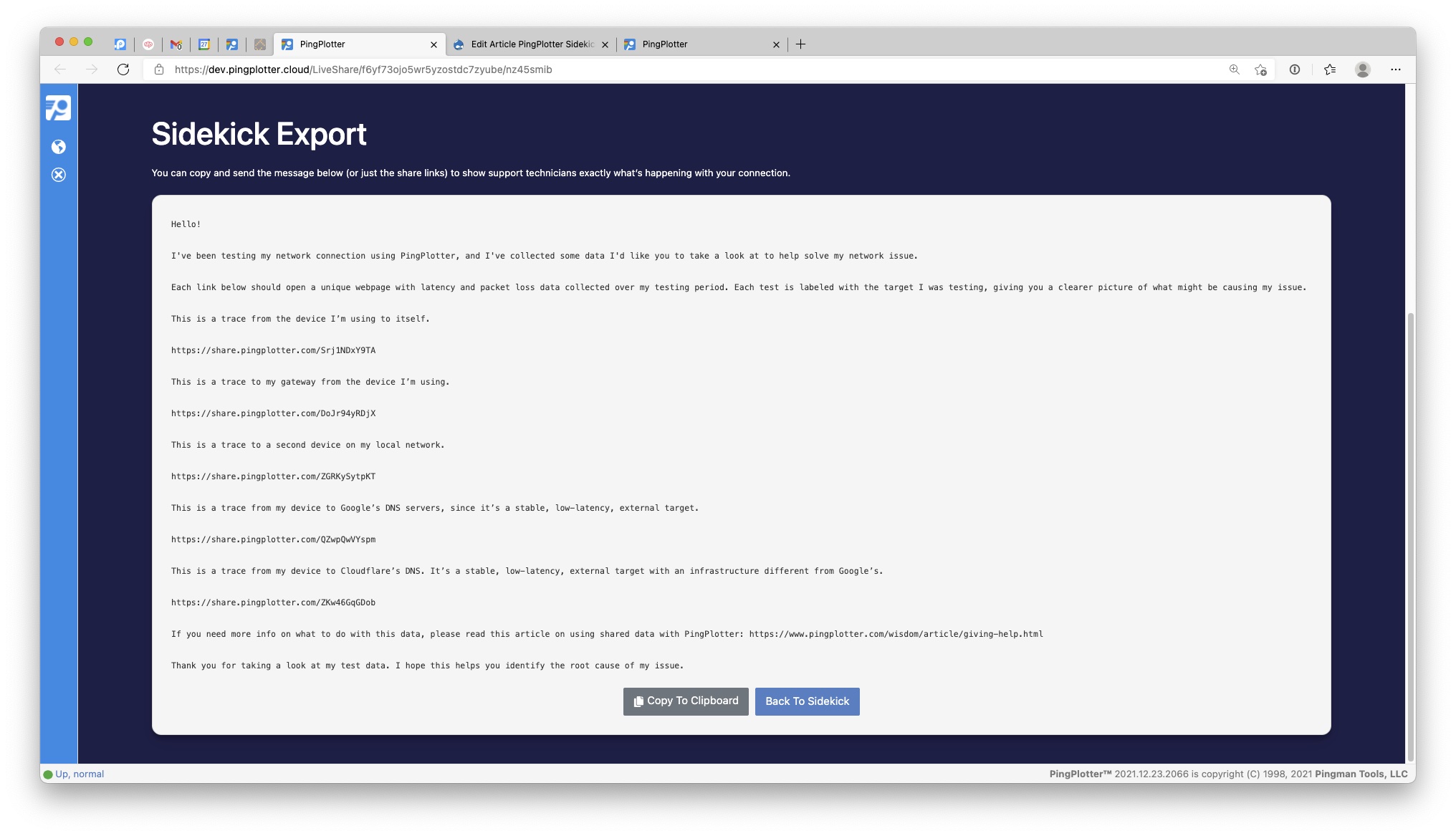 Need help?
Our Sidekick FAQ is a great resource for additional help. You are always more than welcome to reach out to us via email at support@pingman.com. We are more than happy to help however we can!